Aims and Scope
Jasem M. Alhumoud, Nourah Almeshaan
---
Background:
Time series is a sequence of measurements made at regular time intervals. Tremendous work has been done on pipe break investigation and maintenance, using different models. However, the authors have not found any research work on pipe failures in water distribution networks using time series.
Objective:
The principal objective of this paper was to investigate the applications of time series analysis in modeling man-made (pipe breaks) and natural (rainfall) environmental systems.
Methods:
This objective was satisfied by employing the Time-Domain (Box-Jenkins) approach to assess two case studies in Kuwait of a water distribution network (pipe failures), and from rainfall rates measurement of a solid waste disposal site, respectively. The statistical analysis of these data was conducted with the aid of the BMDP and SAS computer software packages and by the use of the P2T programming procedure for the Box-Jenkins method.
Results:
The results showed a significant correlation between the data and the time series models provides good estimates of pipe reliability and rainfall measurements.
Conclusion:
Based on the significant results, time series analyses could and should be useful by water authorities in planning pipe maintenance and inspection. Moreover, it is recommended and it would be very useful to conduct similar studies on pipes carrying other fluids such as gas, air and oil.
---
December 31, 2020
Hidajat Sugihardjo, Yudha Lesmana, Dwi Prasetya
---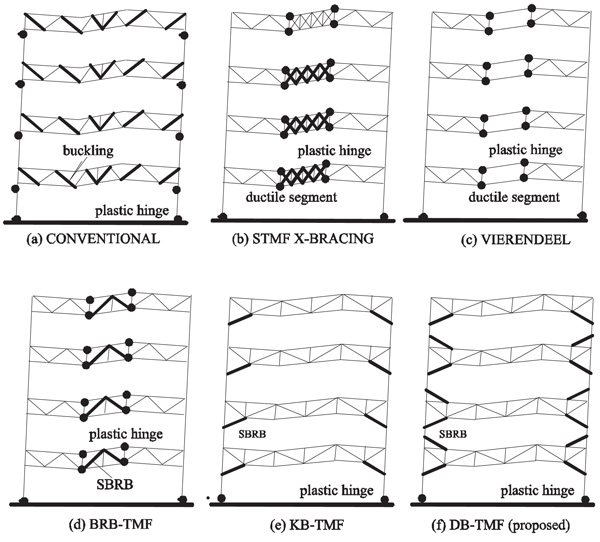 Introdution:
This paper proposed a Small Buckling-Restrained Brace (SBRB) for the ductile truss moment frames and is called here as the Double Braced Truss Moment Frames (DB-TMF). The braces are located at the edge of the truss girder and are only placed around the building perimeter. The braces work in pair as a weak element (structural fuses) and is expected to effectively absorb the seismic energy. The proposed DB-TMF system is an extended development of the Knee Braced Truss Moment Frames (KB-TMF). The DB-TMF system is expected to carry the whole seismic loads, while the rest of the frame is designed to carry only the gravity loads.
Methods:
To study the performance of the proposed DB-TMF system, non-linear finite element analysis was carried out using the DRAIN-2DX package. From the analysis with various time history records, it was found that the drift ratio of the DB-TMF system is lower than the allowed story drift. The roof-top displacement shows an asymptotic behavior. The shape of the hysteresis curve tends to have a pinching shape. However, the cumulative ductility of the proposed system satisfies the requirements as a hysteretic structure. In the event of an earthquake, only the SBRB and the chords adjacent to the column element are damaged while the rest of the structural elements remain elastic which is expected.
Results and Conclusion:
Based on the performance evaluation of the DB-TMF system, the DB-TMF system is suitable for moderate seismic region and has smaller dimension steel sections compared to the KB-TMF system.
---
February 28, 2019