Aims and Scope
Zena K. Abbas, Hayder A. Mahdi, Bassam A. Tayeh
---
Background:
Many tools and techniques have been recently adopted to develop construction materials that are less harmful and friendlier to the environment. New products can be achieved through the recycling of waste material. Thus, this study aims to use recycled glass bottles as sustainable materials.
Objective:
Our challenge is to use nano glass powder by the addition or replacement of the weight of the cement for producing concrete with enhanced strength.
Methods:
A nano recycled glass powder is prepared by crushing and storming a glass bottle to obtain a Blaine surface area of approximately 28 m2/g and conforming to the chemical requirements for natural pozzolana class N, according to ASTM C618. The outcome of using nano recycled glass for theaddition and replacement of ordinary Portland cement weight on the compressive and flexural strengths of concrete at 7, 28, and 90 days is investigated.
Results:
The concrete mixes with 2.5%, 5%, 7.5%, and 10% replacements of cement by nano recycled glass powder show improvements in compressive and flexural strengths of up to 12.77% and 7.66%, respectively, at 28 days. Meanwhile, mixes with the addition of 5% nano glass powder show best improvements in compressive and flexural strengths of up to 11.49% and 7.46%, respectively.
---
July 14, 2021
Nicola Chieffo, Iasmina Onescu, Antonio Formisano, Marius Mosoarca, Marius Palade
---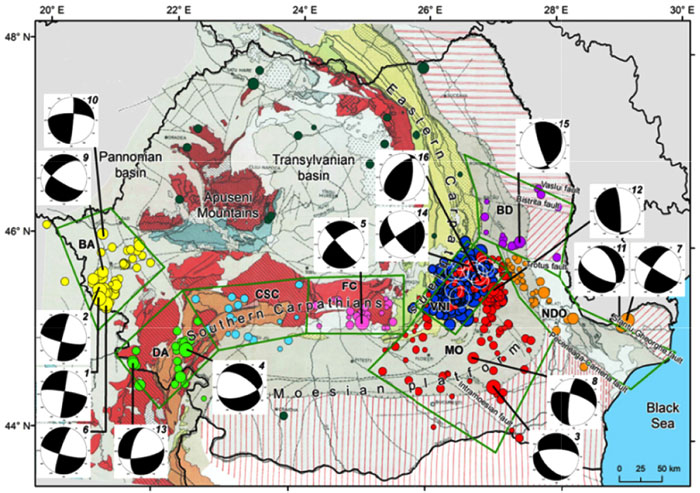 Background:
Timisoara is one of the most important Romanina cities, located in the Banat area and characterised by shallow earthquakes with high ground motion vertical component. The seismicity of the area, in accordance with the P-100 Romanian Code, is affected by medium-high hazard level with an expected maximum PGA of 0.20 g.
From a historical-artistic point of view, the city of Timisoara is full of monumental buildings of inestimable values and it was declared as the European Capital of Culture for 2021.
Aims:
The present work aims to investigate the seismic vulnerability of masonry buildings located in the districts of Fabric and Iosefin, which were grouped in typology classes based on the EMS-98 scale according to their geometrical and structural characteristics.
Methods:
The performed vulnerability analysis is based on a combined empirical-mechanical procedure to estimate the propensity at the damage of the buildings surveyed.
Results:
A specific formulation was proposed for typological vulnerability curves of building classes of the examined area, which were calibrated on the basis of the damages detected after occurred earthquakes.
Conclusion:
The proposed formulation was validated from the application to an urban sector of the municipality of San Pio delle Camere (Italy), which was damaged after the 2009 Abruzzo earthquake.
---
October 26, 2020