Aims and Scope
Ali Bagheri, Jay Sanjayan, Jeeva S. Ali, Jatin Arora, Karamjit Sing
---
Background:
Concrete mixtures are normally poured in single layers without intentional changes in the mixture properties within the thickness of the layers.
Objective:
In this research paper, alternative approach is introduced with Functionally Layered Concrete (FLC) composites, which have their known functions to achieve the maximum performance index.
Methods:
The performance index can be defined as the ratio of characteristics to the consumption of resources, fibres and additives. The steel fibre, polypropylene fibre, and silica fume are used in cement composites to make multilayer samples on which mechanical properties evaluations are conducted and compared to that of Mono-Layered Concrete (MLC) samples.
Results:
It is observed from the results that FLC samples have superior mechanical characteristics compared to MLC samples in terms of compressive strength, flexural strength and elastic modulus.
Conclusion:
Given that the use of fibres/additives in FLC composites is diminished, acquiring better mechanical performance with minimised consumption of resources would be possible via functionally layered composite method.
---
February 18, 2020
Hidajat Sugihardjo, Yudha Lesmana, Dwi Prasetya
---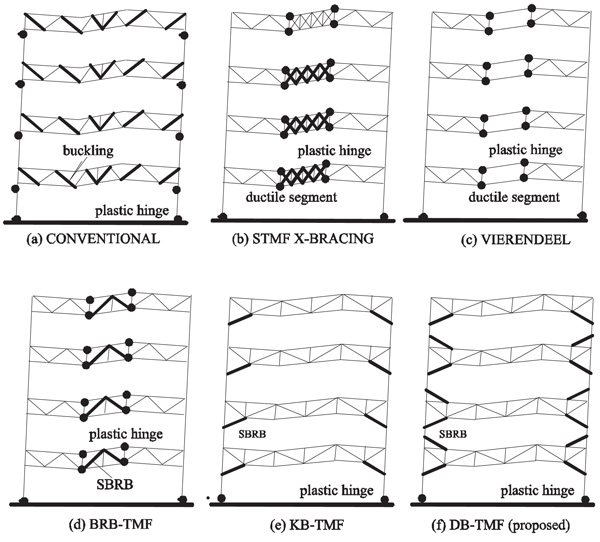 Introdution:
This paper proposed a Small Buckling-Restrained Brace (SBRB) for the ductile truss moment frames and is called here as the Double Braced Truss Moment Frames (DB-TMF). The braces are located at the edge of the truss girder and are only placed around the building perimeter. The braces work in pair as a weak element (structural fuses) and is expected to effectively absorb the seismic energy. The proposed DB-TMF system is an extended development of the Knee Braced Truss Moment Frames (KB-TMF). The DB-TMF system is expected to carry the whole seismic loads, while the rest of the frame is designed to carry only the gravity loads.
Methods:
To study the performance of the proposed DB-TMF system, non-linear finite element analysis was carried out using the DRAIN-2DX package. From the analysis with various time history records, it was found that the drift ratio of the DB-TMF system is lower than the allowed story drift. The roof-top displacement shows an asymptotic behavior. The shape of the hysteresis curve tends to have a pinching shape. However, the cumulative ductility of the proposed system satisfies the requirements as a hysteretic structure. In the event of an earthquake, only the SBRB and the chords adjacent to the column element are damaged while the rest of the structural elements remain elastic which is expected.
Results and Conclusion:
Based on the performance evaluation of the DB-TMF system, the DB-TMF system is suitable for moderate seismic region and has smaller dimension steel sections compared to the KB-TMF system.
---
February 28, 2019